According to the 2006 Proudfoot Productivity Report, 28.8% of company time is wasted as a result of management problems. Achieving high productivity requires a mixture of clear, consistent strategy, management ability, work systems, technology use, people practices, motivation and commitment. At The Human Element, we help organizations assess these aspects, as well as others, and develop and implement strategies to help optimize their effectiveness.
We use a variety of methodologies to identify issues and collect data, such as surveys, assessment instruments, interviews, shadowing and focus groups. After collecting and analyzing data, we will summarize and debrief the results, develop recommended action plans, assist with implementation and help measure progress.
Strategic Alignment Model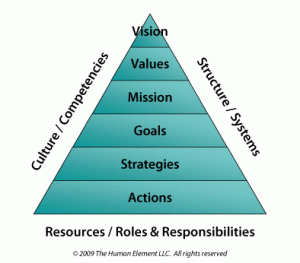 We will diagnose the overall health of your organization by assessing many aspects including, structure, systems, strategies, processes, people, policies, and most importantly, culture. Once assessment results are analyzed, The Human Element can help you align business processes and human resources practices to both retain and change key elements, as necessary.
Taking a deeper dive to understand your organization and its culture brings light to opportunities for change and improvement that can nurture and sustain your business….
We will help you design the optimal organization structure and critical roles to help you execute your business strategy most efficiently. We focus on helping you build connections across boundaries, establish leadership practices for interdependent work, develop interdependent cultures, and eliminate organizational silos. We will also bring clarity to roles and responsibilities so that people can perform their jobs most effectively.Organizational development helps improve organization effectiveness with its major focus on both the total system and the interdependent parts, in an effort to ultimately improve the overall organizational performance.
As an essential ingredient to sustainable success, The Human Element works with you to develop and facilitate a strategic planning process that builds on what you already have in place, aligns with the key elements of your organization, and produces a working document that is used throughout your firm to help set priorities, make daily decisions, and manage progress over time.
We provide facilitated planning sessions for the purpose of assisting management in the creation of Vision, Mission and Value statements that drive the goal setting process. We work with you to define an organizational culture consistent with achieving your strategic goals. In addition, we provide workshops to help managers and employees across departments embrace the organization's strategic direction through specific actions.
Working effectively in teams, virtually, globally, and cross-functionally, is critical in today's workplace. The Human Element will help your organization assess its current team skills and team effectiveness. Then we help put appropriate development plans in place to help leverage the strengths of each team member and provide tools to measure progress. We provide engaging, interactive team workshops customized to meet your specific requirements and designed to develop and strengthen team skills and results throughout your organization.
We also work with management in the areas of team leadership, team member selection, performance support, and reward programs to implement people practices in full alignment with your organization's strategic direction.
Team up with us to strengthen your organization's team effectiveness.
Change is inevitable. Many organizations strategically use change to improve its effectiveness and stay adaptable in today's marketplace. But bringing about successful change in a competitive environment requires thoughtful planning, effective communication and employee acceptance. We assist with the development and implementation of the process, tools and techniques to manage the people side of business change to achieve the desired results.
According to the Society Human Resources Management (SHRM) 2007 Change Management Survey Report, the top two obstacles encountered during major organizational change are communication breakdown and employee resistance. We will help you avoid these obstacles by leading you through changes due to mergers, acquisitions, reorganizations, downsizing, compliance, system implementations, or other major initiatives.