The following elements are the foundation of The Human Element's business model: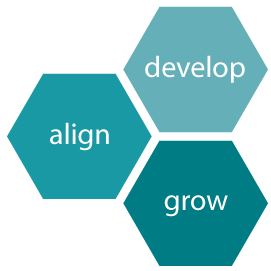 In today's competitive business environment, success and survival depend on innovation, speed, and organizational synergies that satisfy customer needs. Aligning an organization's human capital with its culture, strategies, goals, systems, processes, and tools is the key to gaining efficiencies and increasing overall effectiveness. Ensuring that all talent management practices are aligned with each other and linked to key business drivers and core values is also critical.
The Human Element provides solutions that align your resources and help you realize your full potential.
Aligning people and strategy = achieving results.
Changing times—and the changing nature of leadership— demands solid commitment to the development of individuals, teams and the organization overall. Successful organizations maximize their investment in human capital by developing the talent base of the future with integrated programs that emphasize company values, critical skills and competencies, knowledge management, succession planning and a global mindset for business success.
The Human Element will partner with you in designing your overall talent strategy along with the associated plans and programs to develop your people at every stage of the employment lifecycle. We will customize leadership development systems to fulfill your company and industry requirements.
Developing talent today = a brighter tomorrow.
The Human Element exists to help our clients grow. Without the proper strategies to align and develop human resources, organizations will have difficulty reaching their growth potential long term. Companies with a long term outlook realize they must invest in the people aspects of the business in order to attract, engage and retain the best available talent.
CEOs and senior executives rate talent management as a top business priority and large-scale, international research has demonstrated a clear link between talent management and bottom-line business results. Companies that apply talent management practices demonstrate higher financial performance compared to industry peers according to a 2008 study conducted by IBM Corporation and Human Capital Institute.
A study on small businesses sponsored by the Gevity Institute in 2006 found that companies that implement formal employee selection, management and retention strategies show 22.1% higher revenue growth, 23.3% higher profit growth and 66.8% lower turnover than companies that do not. Overall, companies with a well-aligned workforce perform 39% better than companies with less effective strategies, according to the study.
The Human Element provides solutions that drive organization effectiveness and talent management best practices while assisting you in measuring their return on investment.
Aligning and developing individuals, teams and organizations = client growth.
For more information about additional value gained by working with The Human Element, see About Us.